Fireman's Forum: What on Earth is a Microburst?
January 16, 2018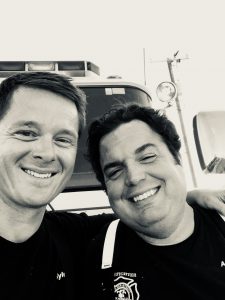 By Kyle Borg, Professional Firefighter/Insurance Agency Principal
First Shift as a Booter
Summer monsoons bring tremendous winds, rain, and cool air. When that cool air collides with an overheated urban desert climate, chaos can quickly ensue. I'll never forget it, my very first shift as a brand new firefighter and we got the storm of a lifetime. 19 calls on just my truck alone between noon and 8 pm, when mother nature had finally finished pummeling my poor city. Car accidents, flooded apartments, entire roofs ripped off homes, and a commercial building collapse all within a few square miles and in just a small window of time. The rain was pouring all day long, but as the sun went down the clashing of temperatures caused a unique weather phenomenon. It looks, acts, and feels much like a tornado and at times people report seeing a "funnel cloud", but they're as unique as the monsoon storm that accompanies them into the Valley of the Sun. I'm 38 years old and I have 3 distinct memories of the catastrophic damage brought by a microburst. August of 1997, October of 2010, and October of 2015. As thrilling as it is to be in the middle of 43rd Avenue with flood water rushing past your fireboots, wielding a chainsaw to cut downed trees so traffic can make it through safely, the insurance agent in me can't help but see sadness, loss of money, and all the claims that will follow an event like this.
What is Covered by my Insurance?
By definition, Microburst: noun, Meteorology.  1. an intense, localized downdraft of air that spreads on the ground, causing rapid changes in wind direction and speed; a localized downburst.
Sounds a lot like a tornado, right? So how does my homeowner's insurance respond to such an event? Well, the good news is that most homeowner's policies do provide coverage for the most devastating aspect of a microburst storm. The shingles ripped off or pelted by hail and broken, missing, or damaged is generally covered, subject to a deductible.
What to Do Now?
In October of 2010, my agency sustained a tremendous number of losses as Glendale, Arizona was at the epicenter of the storm. Thousands of people had entire roofs replaced, air conditioner units replaced, and cars totaled from hail damage. The main thing that people need to be aware of with any storm, is that flood from rising water on the ground is generally excluded from all home policies and needs to be purchased separately. If you're curious about finding a carrier that you can be sure will protect you properly in event of a microburst, call me today. Don't wait until the next monsoon season rolls around, do it now.
Call me today! 623-572-0032